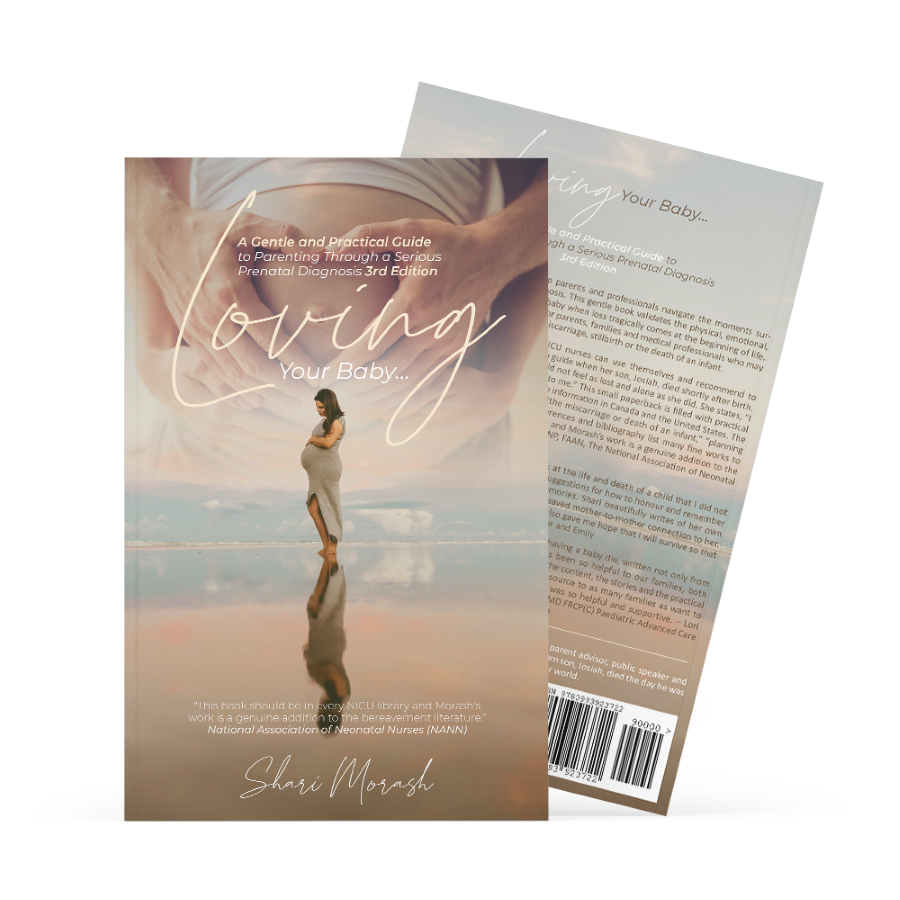 Loving Your Baby… is designed to help parents and professionals navigate the moments surrounding a baby's serious medical diagnosis. This gentle book validates the physical, emotional, and spiritual needs of parents and their baby when loss tragically comes at the beginning of life.
It offers valuable resources and supports for parents, families, and medical professionals who may experience a serious prenatal diagnosis, miscarriage, stillbirth, or death of an infant.
"Loving Your Baby… is a new book that NICU nurses can both use themselves and recommend to families… This small paperback is filled with practical advice, resources, websites, and support group information in Canada and the United States… This book should be in every NICU library, and Morash's work is a genuine addition to the bereavement literature."
Anita Catlin,
DNSc, FNP, FAAN
Loving Your Baby… takes an honest yet gentle look at the life and death of a child that I did not find in other literature. Loving Your Baby… gave us suggestions for how to honour and remember our son through special keepsakes and creating memories.
Shari beautifully writes of her own journey with her son, Josiah, and I felt an instant bereaved mother-to-mother connection to her. Shari's book helped me say goodbye to our baby but also gave me hope that I will survive so that I can honour Oliver's memory.
Nicole Mom to Oliver and Emily
Loving Your Baby… is a powerful firsthand account of having a baby die, written not only from Shari's experience but from her heart! Shari's book has been so helpful to our families, both before their baby's death and in the aftermath.
We value the content, the stories and the practical suggestions that help people in crisis. We provide this resource to as many families as want to accept that guidance and those who take it always say it was so helpful and supportive.
Lori and Christine
LORI IVES-BAINE, RN, BScN, MN (CPB) and
Dr. CHRISTINE NEWMAN, MD FRCP(C) Paediatric Advanced Care Team (PACT), The Hospital for Sick Children, Toronto, Canada